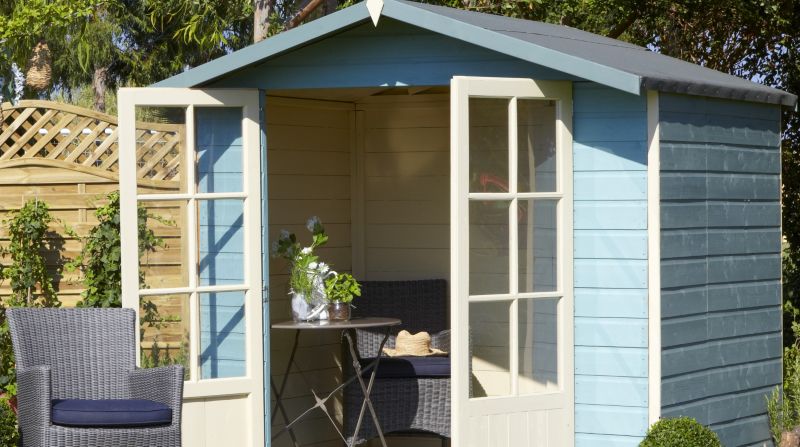 On Sunday night I dreamed my summerhouse, right down to the colour — pale blue and cream. Yesterday I nipped into B&Q to get some bean poles (canes) for the sweet peas I'd been given, and there was my summerhouse. The one I'd dreamed, right down to the colour … And it's only £299.98 (apx $466, although I'd have to get it delivered and put together too).
Sadly, I don't have a spare three hundred quid lying around, and if I did, I wouldn't be able to justify spending it on a summerhouse. It was nice to see, though. Now all I have to find is the white wicker furniture I dreamed to go with it.
I picked up a bundle of canes, 3 pots to plant the flowers in (3 for the price of 2), and I bought 5 marigolds in pots to go into a trough that's been sitting empty in the garden. I also bought a ball of string (garden twine) to tie the bean poles together in a wigwam effect. I already have a bag-and-a-quarter of compost and some polystyrene (styrofoam) I can break up for lightweight drainage. Now I just need the time to plant up the sweet peas.
Had I not already reached my budget (£20) I could have picked up some trellis, but I need 2 and the expanding ones were £11 each. Still, the job was to cost it and that's what I did. Those, and the tacks to fit them with, will have to come out of another week's spending money, but soon because my grape vine has gone wonderfully barmy. I don't think I need to prune it until "summer", and that's when I also want to start cordoning it to the trellis.
When we got home (I'd taken Rufus with me so we could go for a quick walk on the way back), I cleaned up the old table I use for a potting bench, and put that inside the greenhouse, plus all the other pots I've accumulated. I did some weeding, got rid of that sticky, clinging, creeping weed that gets everywhere, and some stingers (stinging nettles), and I swept up.
And that was all the non-work work I managed (that wasn't on the to-do list).
I did some editing, did some proof-reading, answered some correspondence, printed off some gubbins for the meeting, had a quick tea, and then drove over to Sheffield for the area Ramblers' meeting.
Today I have more of the same, apart from B&Q and SYNED, and I have the evening to work on CATCH THE RAINBOW (see yesterday's 3 wishes list). Because I didn't manage to drop in yesterday, I also want to try and catch washing-machine-repairman on today's walk. I couldn't submit the walk report yesterday, as planned, because I didn't get Sunday's walk numbers. If they don't come in today, though, it's going without them. I need to file by noon.